Trevor has been traveling through Wyoming and Montana the last few weeks, while Russel has been in Colorado and Texas. The subject of discussion is most certainly calving time. A lot of guys are calving out heifers right now and we're talking about calving mineral, calving formulas, and looking at ways of impacting the health of that calf.
Healthy Cow = Healthy Calf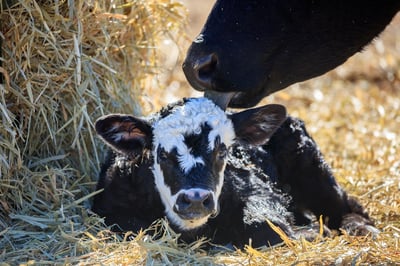 We know that the third trimester it is the peak requirement time, when we are directly impacting fetal programming. Impacting the way that fetus is developing and enhancing the way that that calf will perform. Right from calving, though to the health of that calf at birth, to weaning weights and then how it does in the feed yard.
To quote a mineral guru from Utah, "There's almost no copper or selenium in milk", so you have to feed the mama lots of mineral in the third trimester and then of course after calving too to get them ready for breeding. It's common sense that a calf is only getting mineral as long as it's connected to the umbilical cord and is still in the fetus stage. Once that calf is born, it's already too late to start trying to catch up on getting its mineral levels up.
Impacting Calf Crop
So what we're encouraging of course, is being proactive. If that calf is mineral deficient, because mama was deficient, it will typically get sick three times in the first six months of its life! This is directly contributing to a lower weight gain.
Tests have been done on lightweight feeders over the years, and 100% of those feeders that were tested were mineral deficient! It's a very key topic in terms of production and we're in production agriculture.
We're impacting the calf crop. Using the third trimester tub, the 3TT tub program, and calving formulas, we're priming that cow up so that she delivers a healthy calf. She'll calve well, clean well, and by reducing retained placenta issues we're taking care of that reproductive tract, and that's the first step to breed-up.
To sum up, it's all about prepping that cow so that those good mineral levels are in the blood and flow through that umbilical cord and get into the calf to give that calf a fighting chance. Again, conception rates are the biggest measurable in our industry.
Impacting Winter Grazing
As winter moves on, and a lot of places are getting heavy snow and snow cover, winter grazing is being impacted. Ranchers are having to resort to feeding hay to ensure that their cows are getting enough gut fill. Feeding hay does not mean that the tub program doesn't have a fit. We're still all about getting more out of that hay to improve digestion and improve forage utilization.
We're positively impacting grazing patterns by enhancing digestion and helping those cows to travel further, even to forage through those snow-covered fields. We're helping them to become content sooner by simply squeezing more out of every mouthful! Ranchers have testified that they're seeing cows that are laying down earlier in the day because their needs, quite simply, have been met earlier. That means they are burning less energy and more is going into fetal development, milk production and body condition.
It's all about utilizing the power of Nutrizorb, the digestion catalyst, to help move the needle in terms of digestion. As we put it here at Rio Nutrition…we are changing how "utilizable" that forage is.
So whether you're cows are out winter grazing, whether your feeding hay or complete ration…we're all about impacting the calving performance by getting mineral into the blood and impacting the digestibility of your forages. We use Nutrizorb in every formula, every tub, every bag of mineral…the calving mineral, the breeder mineral. Every single product that goes out of our doors comes complete with Esqort 100% Protected Trace Mineral to get it into the blood and of course the Nutrizorb 16 Component Digestion Powerhouse to increase the TDN value of your forages.
Reach out to one of our beef team members if you have any questions. We'd love to help you this calving season to ensure you have a smooth season with easier calving, healthier calves, less cleaning issues and pave the way for more successful breeding season this year.
Stay warm out there, stay safe, and at any time please holler if there is anything we can do for you! Thank you.