It is critical for the ranching industry to understand the Riomax® concept. As we always say, "We're not saying it's better than everybody else out there, and we're not saying they're worse, but we are saying it's different…very, very different."
Riomax® Highly Concentrated Lick Tubs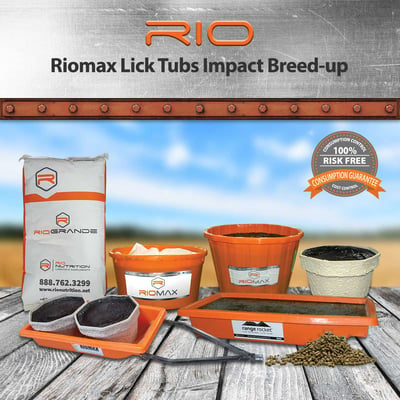 What makes it different is that it's a highly concentrated tub, with a low, controlled consumption by design, with a low cost-to-feed which is totally back up by our Cost Guard™ Consumption Guarantee. The whole concept is engineered around looking at:
What are we trying to get done?
What's our measurables?
What is our end game?
This time of year it is:
Getting more pounds on those calves without using creep feed
So, with that in mind, we reverse engineer and make sure that we can, through these nutrition tools, can give that cow the highest possible chance of reproductive success. It's much more than an ordinary mineral program, everything is geared around results, geared around delivering those measurables that we spoke of above.
Cost-Per-Ton vs. Cost-To-Feed
To sum up, Riomax®, being highly concentrated, is typically higher priced up front on a cost-per-ton or a cost-per-tub basis. Many times 2-3 times the price of other tubs out there. This may be somewhat of a sticker shock…which we totally understand, we are human too. We'd like to assure ranchers that when you use a concentrated tub…just like anything concentrated, whether it's laundry detergent or Round Up…your up-front cost is typically higher, and your cost-to-use is right in the running, many times less!
So, as we say, "Riomax® enables the commercial cattleman and the mom and pop rancher to use the best of the best for less!" For a controlled, reasonable cost-to-feed. Check out our cost calculator, a tool to discover your break even on Riomax®; in other words, the very least results you can expect that would totally offset the cost of the product…better yet, discover how with conservative numbers how much you can add to your bottom line.
Impact your key measurables this breeding season
Now, going into breeding season, https://rionutrition.net/frustrated-with-breeding-challenges/ we invite you to reach out to our beef team to discuss what we can bring to the table regarding your ranch. We'd be glad to talk volume discounts and go over product options, ideas, and tub options: plastic, biodegradable, tub sleds. We want to help impact your key measurables this breeding season! Call or text us at 888-714-5781 or...if you'd rather, simply fill out our online form. Thank you! https://rionutrition.net/quote-request/