With the drought becoming a reality in the lives of ranchers, especially in South Dakota, North Dakota, Montana and Nebraska, we are getting a lot of questions from ranchers in these drought stricken areas.
Help For Ranchers in Drought
"Does Rio Nutrition have a drought product?"
"How does RioMax help in drought conditions?"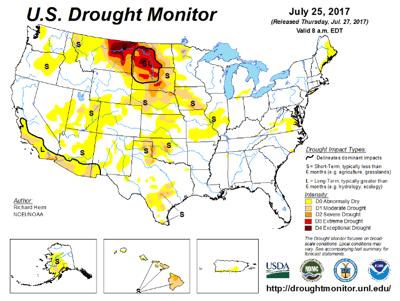 We appreciate these very real questions coming from ranchers who are working hard on drought mitigation and looking at the big picture of trying to reduce the long-term effects of the drought.
The answer is YES, we most certainly can assist in drought conditions by simply helping ranchers to optimize their resources. The key ingredient is Nutrizorb…and it's included in every RioMax lick tub. It helps cows to better utilize ALL the forages that they do eat. We offer it as an indirect supplement rather than the more traditional direct supplement, we'll explain why.
Benefits of Indirect Supplements
Good news…there is a better way to get your cattle the nutrition that they need during drought conditions! Indirect supplements meaning nutrients that are harnessed by the power and effectiveness of Nutrizorb. This means that cows are content with LESS! They get MORE nutritional value, protein and energy out of the same hours of grazing.
University studies show that Nutrizorb actually increases the digestibility of forages, with results showing a definite increase in the TDN (total digestible nutrients) across several studies. It all comes down to increased efficiency and getting more out of what you've already got … and increased efficiency means a healthier bottom line.
What this all boils down to is better managing your resources. In time of drought with low moisture or shortage of rainfall, it's more crucial than ever to effectively manage your resources. It's time to use the technology available with the Rio Program to extend your pastures, get more out of your grass and in many cases, put off that hay date. Ultimately to avoid culling off our cows if at all possible, and to reduce the long-term impact of drought conditions.
Harness the Power of Nutrizorb
Let's recap, Nutrizorb (in the RioMax barrels) is working to stretch your forages, grass and resources in two ways.
Getting more nutritional mileage, nutrient intake on every mouthful, all day long.

Optimizing how you use your land base by spreading cattle out.
These two aspects go hand-in-hand to reduce the effects of drought on your ranch.
Reach Out to Rio
We extend an offer to all ranchers to reach out to our beef guys, we'd love to discuss ways that we can help your ranching business during drought conditions. Call or text us at 888-714-5781 or…if you'd rather, simply fill out our online form.
As our owner and founder Trevor Greenfield used to say, "If we can't earn your business, we don't deserve your business." …and by the way, he's still saying it!