Hello, hello!
I ran into snow two weeks ago while working with ranchers in Wyoming, while our Maple Creek office in Canada got a bunch of snow last week...so, we're definitely not complaining about the heavy frost we had here in Redwood Falls last night. It is October, of course.
So you'd be interested to know that we felt the need to clarify (and rephrase) our "brand message"! Here's why:
With a premium brand, there had been a bit of a myth out there that we are high-priced. Well yeah, that is true, as far as the "upfront cost" goes, or you cost per ton. But that's where it stops.
However, the message we want to really stress is that in reality, our cost-to-feed is typically lower than that of "cheaper" options out there. So your cost to feed is your true cost, it's your real cost. I'll share a story with you to illustrate, a story one of our longtime customers told:
The rancher is from Western Wyoming, and when things got tough and the money got tight, they looked to find ways to cut costs. With the higher upfront cost of Riomax lick tubs, the rancher decided to switch to a so-called "cheaper" tub to reduce expense. I then asked him how things had gone. The ranch manager just rolled his eyes and said to me, "Terrible! I got a product that cost half of what yours costs, upfront. The cows over-consumed on this cheaper tub - a ton would last 48 hours of 300 cows (it costed six times more than Riomax would have!)". It almost brought tears to my eyes yet it really underscores the message we are trying to share.
Another recent story involves an older man who had been involved with cattle all his life. When the concept was explained to him, he looked up and me, his old face almost expressionless, without any visible emotion and just nodded his head slowly, the shrugged, "Well, that's just common sense".
So the message is like this - we are known as the Cadillac of Cadillacs, but without the Cadillac price tag! To put it into a one-liner, we have summarized it as follows:
"Enabling ranchers to use the best of the best - for less!"
The real value that we bring to the table is, however, more than just the "lowest cost to feed" product on the market. It is clearly shown out in an independently run field in Kaycee, Wyoming...see below.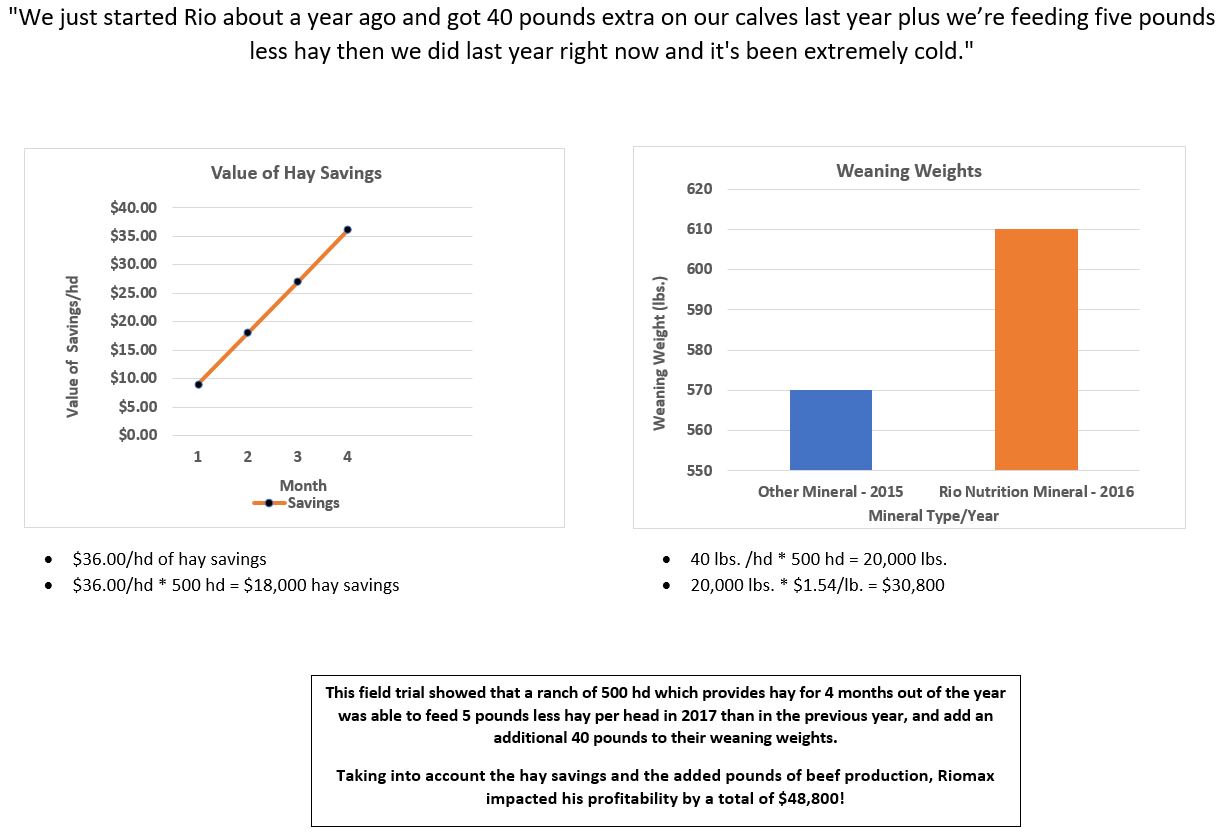 So as you can see, we've been having all kinds of fun helping ranchers to increase production and reduce costs.
As we go into this fall we are working with folks to stretch forages, get more days on pasture without feeding hay, prime up those mother cows going into winter, and ensure we wean off healthy, stout calves here this fall.
Reach out today, we're always here for you!

Trevor Greenfield
Call or text us at 888-714-5781 or…if you'd rather, simply fill out our online form.