As summer rolls on, we're getting into that time of year when there's a lot of shows going on around the country. For the team at Rio Nutrition it's a great time of year because we get to meet with so many of our customers face to face. We feel that it's so important to ensure that we are aligned with what the ranching industry is asking for, by listening to what you, the rancher, has to say.
Rio Nutrition in Booth 206 at Dakotafest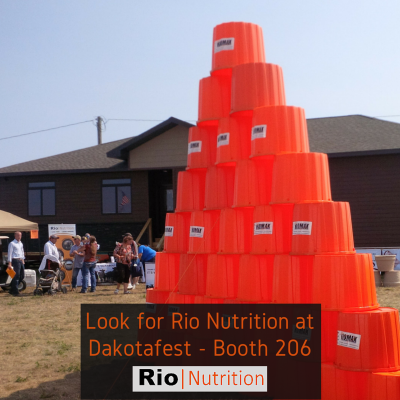 We've already been to a couple of shows this year, and Dakotafest in Mitchell, SD on August 18th-20th, 2015 is next on the list. We'll be in Booth 206 close to the livestock demo area. View Dakotafest Exhibitor List.
You can't miss us with our Riomax® Orange Tubs and Riomax® Orange Tent. Plus the whole Rio Team will be wearing Riomax Orange t-shirts!
Prizes & Giveaways
When you spot the tubs, tent and t-shirts, swing by our booth to grab an ice cold bottle of water and meet the Rio Nutrition Team.
Good news! The Rio Team will be handing out complimentary working gloves in our booth. Even better news! We'll be running a drawing to win a free cooler and case of beer. So make the Rio Booth 206 a must when you're visiting Dakotafest this year!
Free Shuttle Rides
If your feet are getting sore or you're feeling weary like many often do at tradeshows, jump aboard one of the Rio Nutrition-sponsored shuttles. It will give you a chance to put up your feet and enjoy a well-deserved rest.
Video Walls
Keep your eye open for one of our craziest team members giving a crazy speech on any of the video walls located throughout the show! You're sure to find it entertaining and informative.
Upcoming Shows in September
For those of you who are planning to attend Husker Harvest Days in Grand Island, NE on Sept. 15th-17th, 2015- look for Rio Nutrition in Booth LIB1923 right by the Livestock Demo Area in the Livestock Industry Building. Watch for more details about Husker Harvest Days in our next blog post. Click here to find a complete list of our upcoming shows.
See You at Dakotafest!
The Rio Team is looking forward to meeting with you in Booth 206 at Dakotafest. If you have a question for our team but aren't able to make it to the show, give us a holler. Call or text us at 888-762-3299.