Beef producers across the United States are pretty upbeat right now with the market rallying. It's intriguing that people in Beijing, China will be enjoying eating good quality steak before long.
Back at the ranch we are dealing with reality and working with ranchers to increase production in their ranching businesses. We are beef producers, but what we are really producing is pounds.
Rio Nutrition Production Model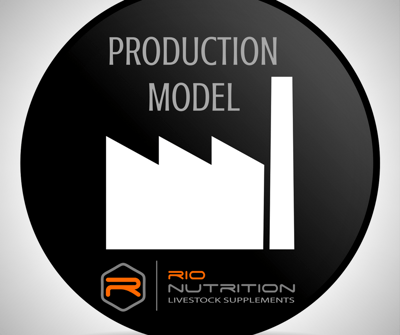 How can we make small tweaks to improve production, add more pounds and increase profit? Here are three metrics that are influenced the most with the Rio Nutrition Program. Each play a very key factor in your production.
Getting those cows fertile, impacting breeding performance. More bred cows and less opens, equals more calves and more pounds come fall.
Tighten up breeding, a less spread out breeding season. Every movement to an earlier cycle means 21 days more growth for that calf and more pounds to market in the fall.
Weight gains on calves. We're not talking about butterballs or excessive fat on calves. We're talking about lean, green, framey calves.
Produce More Pounds
How are we doing this? By helping mama cow better utilize her forages and produce milk at her peak. Optimum genetic growth potential is achieved when peak milk production is passed on to the calf. Mama's milk (and a lot of it) will produce a heavier, framey calf.
Our production model, in very simple terms, is to produce more pounds in the fall.
Think of your ranch as a factory, optimizing those "little machines" as a rancher in Wyoming once called them. Reaching optimum production capacity out of each machine and the factory as a whole.
Good News – Learn More!
So, we started with good news about China, how about some good news on the home front. With Rio Nutirtion you can get more out of the resources you already have…land base, forages, genetics and so on.
Learn more about the Rio Nutrition Production Model. Our beef guys would be happy to discuss this topic that's becoming more and more prominent in the beef industry. Call or text us at 888-714-5781 or…if you'd rather, simply fill out our online form.