Did you ever run into a nutrition company out there that is only concerned about the big guys? Not Rio.
We care for the small ranchers, the medium size ranchers and the large corporate ranchers alike. Of course, there are benefits to buying in larger quantities; no different from anything out there, yet our family business care, ethics, values are the same for all.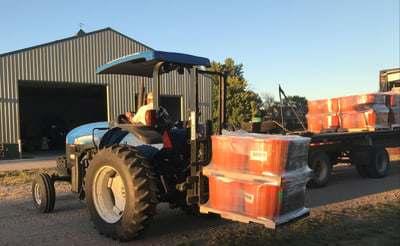 So, although we technically have a 3 ton minimum order for freight purposes, sure we can sell you a ton at a time if your herd size is such that three ton will be too much for you. As a rule of thumb, we do recommend getting enough product for a 90 day window if possible.
So yes, we do have a minimum that we like to adhere to. And yes, ironically, we are flexible.
Mix & Match Program
Did you know that at Rio Nutrition you can mix and match your order to fit your herds' specifics needs? Here's an example. You could place an order for 1 ton of loose minerals, 1 ton of pellets for your heifers and 1 ton of pasture minerals for the upcoming pasture season. That's a 3 ton order delivered direct to your ranch, right when you need it. The point is that you do not need to take a complete order of the same product – mix it up a little as you need to!
Help For Your Ranching Business
As a family owned business, we strive to do the right thing by the rancher, regardless of the size of the ranch. We want to help folks like you…big dog or small player, in your ranching business.
Impact your herd
We want to do what you would expect out of a family owed business that started small in a one car garage. That has been there and done that.
Call The Beef Guys
Good news, we want to put out an appeal to anyone who feels that we do not care for the business of the small to medium ranchers. Certainly we do a lot of business with the larger ranchers, but we want to make it very clear that we will absolutely accommodate the lower quantity needs of ranchers with smaller herds.
We would love to answer your questions about minimum orders, our mix and match program or our different products for different applications. Call or text us at 888-714-5781 or…if you'd rather, simply fill out our online form.