We've listened to ranchers across the nation and understand your challenges. To meet your feeding option needs, we've come up with solutions that work as hard as you do.
We know you appreciate the value that Rio Nutrition products bring to the table in terms of cow performance, calving, weight gain on calves and yearlings, breed-up and the list goes on. However, what we have to offer is so much broader. Here is a run-down of our large range of feeding options.
Riomax Tub Choices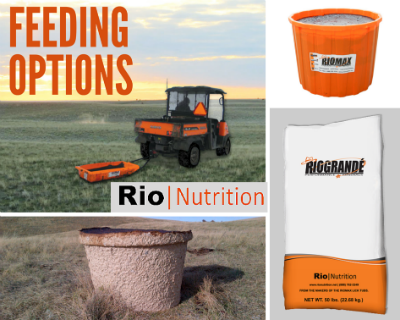 When it comes to tub packaging options; we have a variety of choices available to fit your needs.
Original Orange Plastic Tub – Iconic orange 250lb. tub that's seen in pastures across the country. This is by far our most popular option and is a great fit where plastic tubs are traditionally used.
Envirotub™ - Biodegradable, edible tub is a popular, time-saving option for ranchers because they don't have to run around after containers. Cattle eat the sides as they consume the product. It's is especially useful for large pastures, mountain terrain, and forested pastures.
Smaller 125lb. Tub – Both the biodegradable Envirotub™ and the orange plastic tub are available in a less back breaking 125lb. size.
RangeRocket™ The Original Lick Sled™ – Low profile sled is the newest addition to the range of feeding options. This easy to move 250lb. tub can be pulled behind an ATV or horse. It provides a welcomed solution to rotational grazing, easy relocation of the tub for grazing management purposes, prevention of pasture damage or blowout and easy access for horned cattle.
The Riomax tubs are highly fortified, low consumption lick tubs with a low cost to feed and a strong focus on digestion. Riomax specializes in cost effective livestock nutrition by offering solutions to livestock producers across America.
Riograndé Loose Minerals
Another popular feeding option is our conventional bag mineral. This loose mineral can be easily moved using an ATV or with pack horses.
Riogrande Loose Mineral is a concentrated, low consumption mineral with a low cost to feed and a strong focus on digestion. Your livestock nutrition solution in a loose mineral. "What Riomax® is to the tub industry, Riograndé is to the mineral industry. It's the leader of the pack."
Riogrande Product Line:
Discuss Your Options
Whether you are looking for a classic, biodegradable, movable or bag feeding option; we have the solution to getting nutritional range minerals in front of, and into, your cattle.
To discuss the best feeding option for your ranch, please call or text us at 888-762-3299 or click here to complete our request form.