This unique edible half lick tub has been really catching attention recently…Customers are trying the 125lb. Envirotubs and are really liking them! So this inspired us to write a blog post to share with ranchers some facts about this junior sized tub.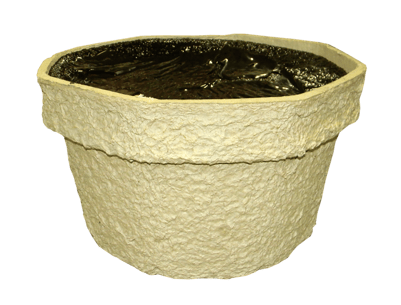 This barrel is edible and biodegradable, known by ranchers as Envirotubs, Bio-tubs, Edible tubs…and ice cream cone tubs. Why ice cream cones? Well, when you eat an ice cream cone, you eat the cone along with the ice cream. With the Envirotubs, the cows eat the tub along with the supplements inside. Simple. Yet not near as messy as an ice cream cone!
Challenges of 250lb. Envirotub
The trend is definitely shifting from the 250lb. to the 125lb. Envirotub lick tub. Why? The 125lb. lick tub is made using a mold that was designed by Rio based on the input from ranchers and the challenges they were facing with the 250lb. lick tub, some of which were:
Tub sides weakening and product oozing out during warm weather.
Tubs tipping over and product leaking out.
Difficulty to move them around due to their weight.
Benefits of 125lb. Junior Envirotub
At Rio, we realize that we are far from perfect. But I tell you what, we are very driven to resolve issues and fix things that don't work…So we launched the 125lb. lick tub as a solution to the challenges ranchers were having.
It is eight-sided for structural strength.
It has a strong ribbed base, making it more robust.
It stands only 12" high, making it much harder to tip over.
It weighs only 125lb, so it's a whole lot easier to handle. Perfect for ranch hands, ranch-wives, and kids who are involved with the ranching operation.
Best of all is as volumes increase on this cute little 125 pounder, we have been able to bring the price down! We are passing these savings on to our customers. The 125lb. tubs now cost less! It's the time to give them a try!
Range Rocket Refill Program

Conveniently, the 125lb. Envirotub can work hand-in-hand with the legendary Range Rocket Lick Sled that's being used widely across ranch country. Here's how the Refill Program works: after the product is eaten, you can refill the empty lick sled using two, 125lb. Envirotubs. They fit snuggly in the sled, which when pulled behind a 4-wheeler, you have 250lbs. of product to drag-and-drop. Whether you leave the entire sled all in one place or drop the refills individually in separate areas, the combinations is something ranchers are truly appreciating.
Let's Recap
Let's take a minute to recap on the advantages of the 125lb Edible, Envirotub Jr.
Robust
User-friendly
Refill Ready
No empties
No waste
No mess
No hassle
All of our tub formulas are available in the 125lb. Envirotub. If you haven't already, we invite you to try these tubs on your ranch and explore the advantages that they bring!
Reach out to our beef guys. We'd love to help you reap the benefits of this unique lick tub. Call or text us at 888-714-5781 or…if you'd rather, simply fill out our online form.