With summer – and pasture season upon us, our focus here at Rio Nutrition is to help ranchers increase gains on calves through good nutrition and better forage utilization. Packing more pounds on calves during the summer will naturally result in heavier weaning weights in the fall in view of increasing your bottom line.
Rancher Testimonials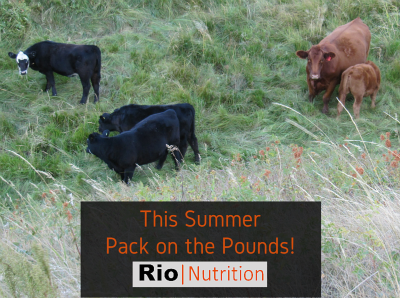 Rio Nutrition products will help your cows get more out of every mouthful…but don't take our word for it, listen to what other ranchers have to say!
"Everyone swears that you can't wean calves over 600 pounds in this country. We weaned 625 pound calves last fall! I've never been able to do that before!" – Rancher in Wyoming
"We rent this pasture for 125 cows and with Riomax we are running 165 cows this year and there is still tons of grass left! We are going to run more cows there next year. That's less investment per cow!" – Rancher in South Dakota
Nutrizorb Technology
With mama cow in healthy condition she will pass key nutrients on to the calf while nursing. Better quality milk results in more pounds on the calf. It's simple! Start optimizing every mouthful! Get more out of your cows, forages and land. Learn more about better utilizing your resources.
Nutrizorb is a powerful 16-component digestion pack that plays a key role in helping cows utilize grass...every mouthful of grass all summer long. Nutrizorb's key ingredients are designed for improved forage breakdown and increased nutrient extraction.
Better digestion and getting more "mileage" out of your pasture is a very cost-effective way to get more nutrition delivered to your calves…for little or no extra input!
Start Packing Pounds on Calves
Rio Nutrition has the tools you need to improve gains on your calves this pasture season and increase your profitability come fall. Ready to talk? So are we! We'd love to help you out. Call or text the beef guys at 888-762-3299 or simply complete our request form. Thank you!