As summer comes to an end and fall begins, weaning is on the mind of many ranchers. Rio Nutrition has played a key part in the successful weaning of calves on ranches across North America.
Rio Nutrition Weaning Program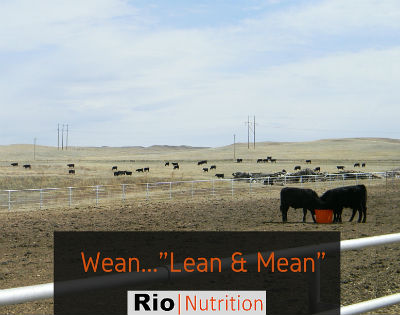 As the old saying goes, "You only have one chance to wean right!" The Rio Nutrition Weaning Program is your most profitable weaning solution. Here's 4 reasons why.
It's high in vitamin A, D and E providing an important boost to the immunity of your calves.
The complete Vitamin B Pack helps stimulate the appetite of your calves.
Protected trace minerals get essential nutrients into the blood stream, contributing to a health status of your calves.
The 16 ingredient Nutrizorb digestion pack improves the digestion system of your calves and help them transition from mama's milk.
Ranchers Agree
Ranchers share their weaning experiences:
"I know this stuff is working on these calves because even with the huge temperature changes we are getting we just have not had one single sick calf!" – Rancher form Saskatchewan
"I saw it (return on investment) on the calves when they came through that drought with no sickness and heavier than they were supposed to be." – Rancher in Wyoming
Protect Your Investment
Do the right thing by your investment! You pastured your cow/calf pairs all summer, now's the time to capitalize on your investment.
Wean healthy, hungry calves this fall with Rio Nutrition's Weaning Program. Wanna try our weaning tubs this fall? Give us a call or text us at 888-714-5781, or complete our online request form.