Running yearlings this year? With a very limited time to make things happen with your yearlings, we are passionate about helping improve gains on your yearlings this season. But don't take our word for it, listen to feedback from our customers.
Yearling Testimonials
What drives us is not what the nutritionists say, or the text books…as much as we respect these resources – it's what yearling customers tell us! Read these yearling testimonials.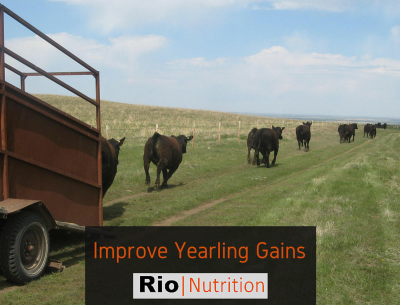 "I sold the heaviest yearlings ever by 60 pounds so they gained a good 1/4lb per day extra! I know Riomax worked there … " – Rancher from Sturgis, SD
"We are really happy with the tubs! They have really cut back on the footrot … footrot is one of those big money things!" – Customer in Daniel, WY
Now that you've read a few quotes from our customers, let's learn more.
Palatability is a Big Factor
Yearling are fussy eaters! Traditionally minerals used for yearlings are unpalatable and bitter. Getting yearlings to eat minerals in general is difficult. A product might have all the right nutrients but if you can't get your yearlings to eat it, it does no good!
Customers have told us that they can't believe how well their yearlings consume our products and how well they gain weight. Rio products are very palatable by design - which means for you that consumption is no longer a challenge!
Eliminate Downtime
Rio Nutrition mineral technology eliminates downtime and as a result yearlings gain more and are worth more when sold. Improve your bottom line. Our Esqort™ Technology is like a bodyguard for essential trace minerals. If key minerals are getting tied up in and don't reach the blood stream, they're rendered useless. Protected minerals are not affected by negative tie up factors, ensuring that minerals you're feeding yearlings are getting into their blood stream. (link to Esqort blog)
Riomax® Lick Tubs and Riogrande Loose Mineral:
Support Eye Health
Help Fight Foot Rot
Boost Energy
Stimulate Yearling's Immune System
Improve Pasture Utilization = Better Nutrient Uptake
Nutrizorb Digestion Pack
The Nutrizorb digestion pack helps yearlings get more out of every mouthful of grass/forage all summer long. The recipe includes 16 key ingredients; all designed for effective improved forage breakdown and increased nutrient extraction. The synergy of the yearling program boosts energy in your yearlings – when using either the yearling tubs or the yearling mineral.
Better digestion and getting more "mileage" out of your feed or pasture is a very cost-effective way to get more nutrition delivered to your yearlings.
Rio Nutrition Yearling Programs
Reduce footrot while increasing gains with the Riomax Yearling Program! Contact us at 888-714-5781 to learn more about the Riomax Yearling Programs or fill out our online form to get pricing.
We'll end with one of our favorite quotes courtesy of a member of our enthusiastic sales team:
"If all this feedback we're getting is a coincidence, we have a heck of a lot of coincidences going on across the country!"